Το ρεκόρ Guiness για το παλαιότερο γράμμα στον Αη-Βασίλη κατέχει αυτό το γράμμα της μικρής Hanna, τα Χριστούγεννα του 1911!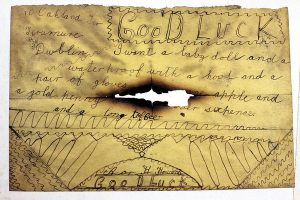 Είναι ήδη 104 ετών και βρέθηκε το 1992, ξεχασμένο μέσα στην καμινάδα ενός παλιού σπιτιού από τον κάτοχο John Byrne, στο Δουβλίνο. Η μικρή Hanna Howard που το έγραψε είχε γεννηθεί τα Χριστούγεννα του 1900 και φυσικά δε βρίσκεται εν ζωή σήμερα, καθώς απεβίωσε το 1978…Στο γράμμα της έγραφε "I want a baby doll and a waterproof with a hood and a pair of gloves and a toffee apple and a gold penny and a silver sixpence and a long toffee." 
Το "θαύμα" είναι πως το γράμμα δεν καταστράφηκε μετά από 82 χρόνια στην καμινάδα του σπιτιού, ενώ φαίνεται πως οριακά γλίτωσε το κάψιμο από τη φωτιά, αλλά και τις υπόλοιπες κακουχίες. Δε ξέρουμε τελικά αν η μικρή Hanna πήρε τα δώρα που ζήτησε, αλλά σίγουρα μας άφησε ένα πολύτιμο κειμήλιο!